According to my last post, I achieved a fat 59% of my craft goals last year. Not one to be deterred, I have a whole slew of new ones for 2013. I'm sharing them so I can keep track and hold myself accountable in public. Wanna see? I plan to...
Knit 15 kilometres of yarn. Spin 9 kilometres. This seems like a lot, but check out last year's knitmeters: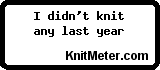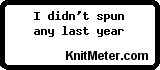 I think this is pretty achievable!
Finish one just one of the three bloody cross-stitch stockings. I've been picking away at this for years. Every year a goal, every year a failure. Just one. Is that really so hard?
Make a patchwork quilt. This was a failure last year, but I got this book for Christmas, and it's full of great ideas and useful info for a relative beginner, such as myself. I don't care if I only make a mini-quilt, I just really want to try this.
Knit the Evenstar shawl. This was one of last years goals too - I never had a point in 2012 where I felt up to the commitment. But I have the yarn, and the pattern, and the ability. This is the year. Look at that thing. I need it.
Release at least four knitting pattern designs. I designed quite a few things this past year, but only released one pattern. WTF, me?
Continue to balance my stash acquisition with my yarn and fibre usage so that at the end of the year, the two bins of fibre I have don't even bulge. Currently they are in the same state that I am if I try to put on pants I bought 4 years ago. They close, but nobody, including the husband, is allowed to see the sweating and squeezing and general duress required to make it happen. It's undignified. I'll be taking out the entire stash in the next month or so to air it and photograph it so you can see its glory.
Don't buy any complete fleeces. Try not to buy raw fibre at all. And, in the same vein, work with some of those glorious fleeces that sit in the garage making sad-eyes at each other. Look what I did with a fleece in 2012 - I want more yarn like this:
Weave. I've got several projects in mind, and one that just came off the loom is almost done! I was given a second heddle kit for my loom this Christmas, and I want to learn all the cool things I can do with it. I also got The Weaver's Idea Book, and it's full of fascinating information.
Knit sweaters. Knit selfishly. Enjoy my craft. Maybe take breaks to sew or stitch or crochet or paint or draw or whatever the hell I please. Because really, why bother crafting if not to enjoy it?
So, do you have crafty goals? Are you making them public so you stay accountable? Or perhaps you are iron willed enough to enforce your goals without public shaming. Either way, I'd love to hear about them! I'm a slightly neurotic list maker - I can't be alone in this, can I?